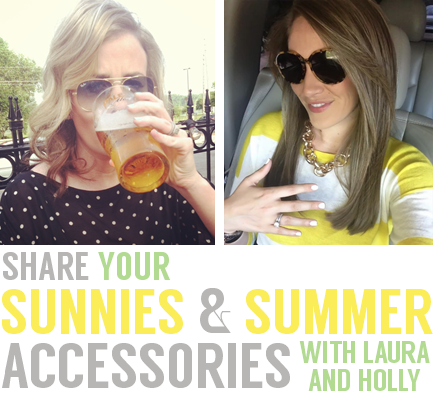 1. My #1 summer must have is sunglasses! I don't have a picture of my sunglasses handy. I have two pair because I always seem to lose one. I buy the cheap sunglasses for the same reason. I am partial to the ones with embellishments on the side because 95% of the time I wear them on top of my head like a headband. My current ones are black and purple with rhinestones along the sides. I also have a pair of brown ones with swirls and rhinestones on the side. What can I say, I like a little bling! My brown ones are very similar to these:
2. Fun nail polish. I am currently rocking OPI Ladies and Megenta-men on my toes. I'll spare you the picture of my feet.
3. Flip Flops are also a must have. I usually buy flips flops that have some bling or are bright happy colors!

4. Light summery beachy scent. I love Jennifer Aniston's perfume. It smells wonderful and not over powering. The scent doesn't last as long as I would like but it smells so good I don't mind re-spraying.
5. My hair is long and is pulled up in a ponytail or bun a lot during the summer. I live in Texas, it gets crazy hot here! I use the Healthy Sexy Hair Aragon Oil to keep my hair smooth and healthy. It also smells good too! Seriously, how cute is that bottle?
6. On my days off I wear minimal makeup unless we are doing something special. Loreal BB Cream is a lifesaver. It makes my skin look super healthy and gives me a nice summer glow while evening out my skin tone. I love this stuff so much that I got my mom, sister-in-law, and niece all hooked on it too!
7. Fun accessories in happy summer colors!
Compass Trading Post
has so many cute items and the prices are very reasonable. The store is set up by color so if you need something to match a certain outfit it is super easy to find. I love this necklace/earring set and may be heading there to bring it home. All for the low price of $9.99 for the set!
8. Baseball hats. I wear baseball hats anytime of year and am lucky that my husband loves the way I look in them. Here we are hanging out with Super Frog. I am wearing my favorite TCU hat. Purple plaid, what's not to love!
9. Sunscreen - I wear it year round. This is one of my favorites. It doesn't feel oily and leaves my face very soft.
10. Bright happy summer beach totes. I love big bags for carrying things to the pool when I actually get to go. I adore the colors in this one by Kate Spade and think it needs to come home to live with me!

So, what are your summer essentials??